The Patient First Strategy at Western Health outlines our commitment to putting patients, their families, and loved ones first to make sure that appropriate support is provided.
This means that we wish to work together with you to make shared decisions about your care. We want your care to feel right for you, and provide care that takes into consideration your individual circumstances to make you feel included and safe. We also want to communicate effectively and provide you with information you can understand and use to make decisions about your care.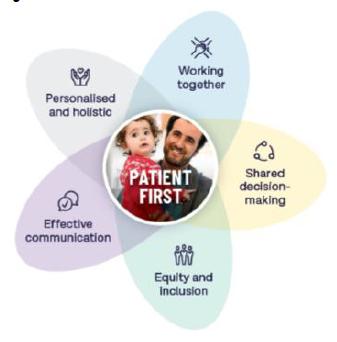 Working Together … I am included as a respected partner in reviewing and improving healthcare
Shared Decision Making … I am supported to make informed decisions about my healthcare
Personalised & Holistic … I receive personalised care that is informed by the experiences of others and supports me as a whole person
Equity & Inclusion … I receive care that is considerate of patient diversity and promotes inclusion
Effective Communication … I receive high-quality information that I can readily understand and act upon
---
Anonymity
We respect the right of a person to remain anonymous when they provide feedback and remain committed to taking action for improvement, but this will result in limitations on the investigation.
Our Feedback Process
How do I provide feedback about my care or the care of a family member?
Western Health welcomes and encourages patients and their families to give us feedback about your experiences. Your feedback is important to us and helps us to have a better understanding of what we are doing well and where we can improve. You can provide feedback to Western Health by:
The feedback you've raised will be shared with the relevant department for their investigation. Depending on the type of feedback a Western Health employee may make contact with you to respond to your concerns and queries.
We always try to resolve issues and respond as quickly as possible. Our response times can vary based on the complexity of the issues raised.
Please also see the Commission and support services also available to you, below.
Share a compliment about our staff
We love to hear about the things that we have been doing well. Please let us know by:
Talking to the manager of the area, or leaving a written message or card for staff
Send an email to Feedback@djhs.org.au or call 1800 16 11 33 to let us know about your compliment.
Alternatively, you can nominate a staff member for a Western Health INSPIRE Award via the Western Health website, which recognise employees and volunteers, individuals and teams, whose actions inspire others to live our values. It is a way to say thank you to someone who has made a difference to your day or to the experience of patients or others.
---
Patients are at the core of what we do and we want to hear from you about your experiences so that we can make sure our services are meeting the needs of our community.
Make a complaint
We understand that there is always room for us to improve our services and welcome all feedback. You can make a complaint by:
Talking to the staff caring for you or your family member. If you don't feel comfortable talking directly with the staff member caring for you or your family member, the Nurse in Charge, or the manager of the area, will listen to your concerns. This is often the quickest and easiest way to resolve your concerns.
To find the contact details of the hospital click here. Call the number of the correct hospital and ask to speak to the manager of the ward where you or your loved was cared for.
If, after speaking with staff, you are not satisfied or would feel more comfortable talking to someone else click here for more information on how to lodge a complaint.
---
Commissions
Aged Care Quality and Safety Commission
NDIS Quality and Safeguards Commission
Health Complaints Commissioner
Advocacy and Language supports
Older Persons Advocacy Network
Victorian Advocacy League for Individuals with Disability
Translating and interpreting services (TIS)
National Relay Service
Teletypewriter (TTY) 133 677
Voice relay 1300 55 727
SMS relay number 0423 677 767