The Patient First Strategy at Western Health outlines our commitment to putting patients, their families, and loved ones first to make sure that appropriate support is provided.
This means that we wish to work together with you to make shared decisions about your care. We want your care to feel right for you, and provide care that takes into consideration your individual circumstances to make you feel included and safe. We also want to communicate effectively and provide you with information you can understand and use to make decisions about your care.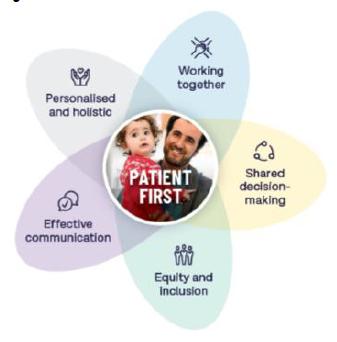 Working Together … I am included as a respected partner in reviewing and improving healthcare
Shared Decision Making … I am supported to make informed decisions about my healthcare
Personalised & Holistic … I receive personalised care that is informed by the experiences of others and supports me as a whole person
Equity & Inclusion … I receive care that is considerate of patient diversity and promotes inclusion
Effective Communication … I receive high-quality information that I can readily understand and act upon
---
Patients are at the core of what we do and we want to hear from you about your experiences so that we can make sure our services are meeting the needs of our community.
Enquiries
If you have an enquiry please refer to the list below for commonly sought information:
If the area you are looking for is not located above, please click here for a full list of services offered at Western Health.
If you still have a question, please use the Contact Us Form for any other query.
Our Feedback Process
How do I provide feedback about my care or the care of a family member?
Western Health welcomes and encourages patients and their families to give us feedback about your experiences. Your feedback is important to us and helps us to have a better understanding of what we are doing well and where we can improve. You can provide feedback to Western Health in a number of different ways.
Tell us about your experience
Use our Patient Experience Survey to tell us about your experience. This asks questions about your stay or your loved one's stay whilst they were in hospital and helps us learn what we have done well and what we could be doing better. We also understand that everyone experiences things differently and we welcome suggestions on how we may improve our care and service. You can provide a suggestion by completing this survey.
The survey should only take about 10 minutes to complete. Alternatively, you can talk to the staff, or the manager of the area where you or your family member are receiving care, or talk to a Patient Representative.


Share a compliment about our staff
We love to hear about the things that we have been doing well. Please let us know by:
Talking to the manager of the area, or leaving a written message or card for staff

Filling out a feedback form online. If you prefer a paper form, please ask a staff member to provide you with a paper feedback form or you can collect one from our patient information areas located near reception at each of our sites.

Alternatively, you can nominate a staff member for a Western Health INSPIRE Award, which recognise employees and volunteers, individuals and teams, whose actions inspire others to live our values. It is a way to say thank you to someone who has made a difference to your day or to the experience of patients or others.


Make a complaint
We understand that there is always room for us to improve our services and welcome all feedback. You can make a complaint by:
Talking to the staff caring for you or your family member. If you don't feel comfortable talking directly with the staff member caring for you or your family member, the Nurse in Charge, or the manager of the area, will listen to your concerns. This is often the quickest and easiest way to resolve your concerns.


To find the contact details of the hospital click here. Call the number of the correct hospital and ask to speak to the manager of the ward where you or your loved was cared for.

If, after speaking with staff, you are not satisfied or would feel more comfortable talking to someone else click here for more information on how to lodge a complaint.


The Call for Help initiative will commence at Bacchus Marsh Hospital on Monday 3 July 2023.
Call for HELP - If you're worried, we are worried
If you are a patient in any of our hospitals, and you have any problems/ concerns during your stay, please tell the Nurse in Charge on the ward as soon as possible. Most of the time they can help resolve any problems that you have.
If you feel that something is not 'quite right' and feel worried about the condition of a loved one who is currently in hospital we want you to let us know.
The call for HELP program allows patients, family members, and carers to directly escalate their concerns regarding patient clinical deterioration via a clearly defined 3 step process.
Call for HELP is NOT an escalation process for complaints or routine clinical care.​
For more information, click here to learn about Call for Help.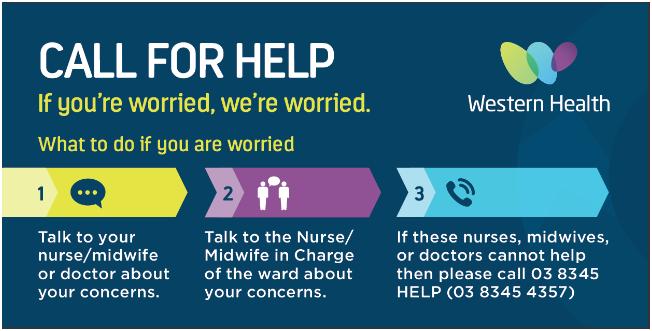 Please contact a Patient Representative if your problems are not resolved and you would like further help.