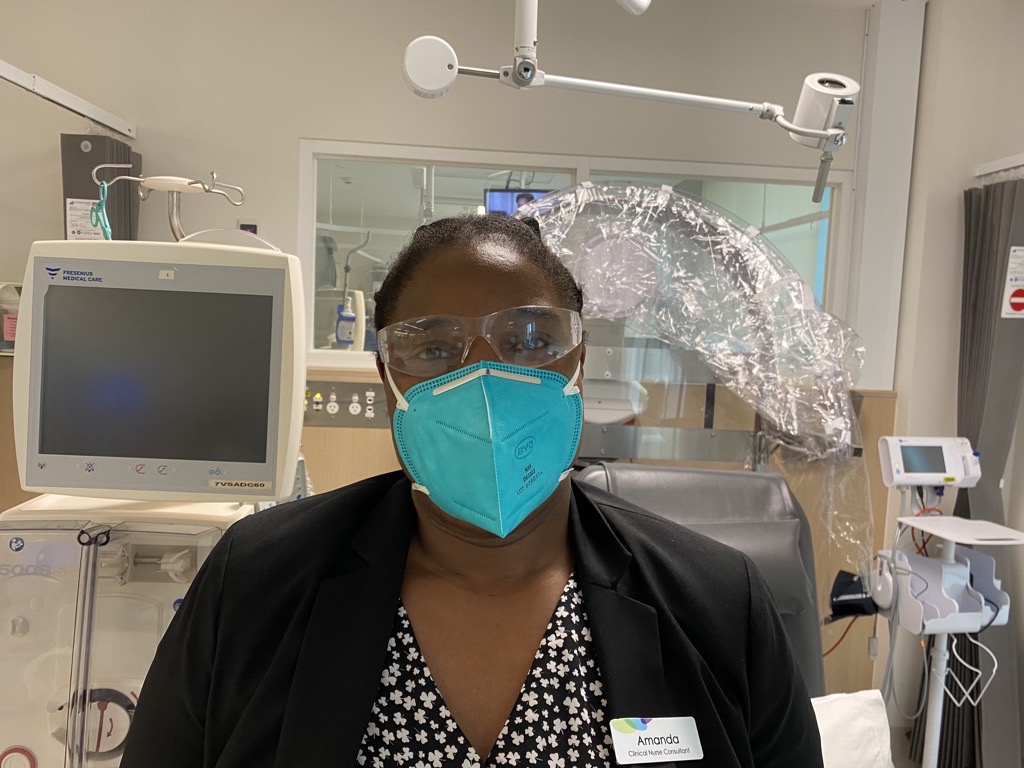 25 May 2022
Chronic Kidney Disease is often a silent illness that creeps up on people wth many patients only experiencing symptoms once the organ is badly damaged.
By the time a patient is referred to Amanda Chakurangeyi, they have hit a fork in the road.
The tiny filters called nephrons that help remove waste and excess fluid from the blood are finding it harder to perform their job.
In time, they will need a helping hand, most likely a procedure known as dialysis, which helps the body remove toxins and excess fluid from the blood.
One of Amanda's main roles, as a Chronic Kidney Disease Nurse Consultant at Western Health, involves having in-depth discussions about kidney failure treatment options with patients in Melbourne's West.
"Unlike other health conditions, where you receive early warning signs, most people with kidney disease often have no pain or symptoms, until their kidney function is incredibly low," Amanda said.
"That's why it can be such a shock for patients."
Amanda takes great pride in being able to support people as they navigate the news and begin planning for the future.
"One patient, who will never leave me, is a young tradie in his twenties," she said.
"He had gone to the GP because he was really tired and he thought it was just because it was near Christmas and he had been working hard.
"He got a blood test done and was asked to present to the emergency department as his kidney function was less than 10 per cent.
"He started dialysis the very next week."
The path that each patient chooses is unique.
"People are usually referred to me when their kidney function has deteriorated to stage 4 chronic kidney disease.
"At this point in the disease progression, most will need to start thinking about whether they would like to have dialysis in the future.
"Most patients are shocked when I have this conversation with them, they don't know what dialysis is, however other people have a bit of knowledge as they have family members on dialysis."
For some people, the decline in kidney function is slow and they will continue to meet with Amanda and other healthcare professionals including their nephrologist.
"We support them by helping to manage their medication and symptoms, which can include swelling of the legs, shortness of breath, nausea and vomiting, itchy skin, lethargy and a lack of appetite due to a metallic taste in their mouth.
"Most patients will proceed to dialysis when their kidney function deteriorates, but others will decide not to have it, so they begin a renal supportive care pathway."
Amanda began her role in 2018, prior to that she was a Renal Educator for Western Health staff and now she focuses her efforts on patients across all the health services campuses.
"I love my job. I really enjoy supporting patients on their journey.
"Often when they come to see me, they are scared and really fragile.
"They've been told they have kidney disease and they need to start thinking about their treatment options.
"I build quite a rapport with patients; some I look after for more than 3 years; so, we get to know each other.
"I do see them deteriorate, but it brings me joy to know that I have been able to help them make difficult life-changing decisions, so they can make it to the next stage safely, whether it is dialysis, or the pathway to organ transplant or palliative care."
As part of Amanda's role to increase community awareness about kidney disease, which impacts at least one in ten Australians, she was recently invited by Kidney Health Australia and the Melton City Council to speak at the Men's Sheds in Melton and Taylor's Hill.
The feedback was phenomenal with more than 70 men attending to listen to Amanda's presentation on kidney disease.
If you'd like more information, including a free test to assess your risk of kidney disease, visit the Kidney Health Australia website.